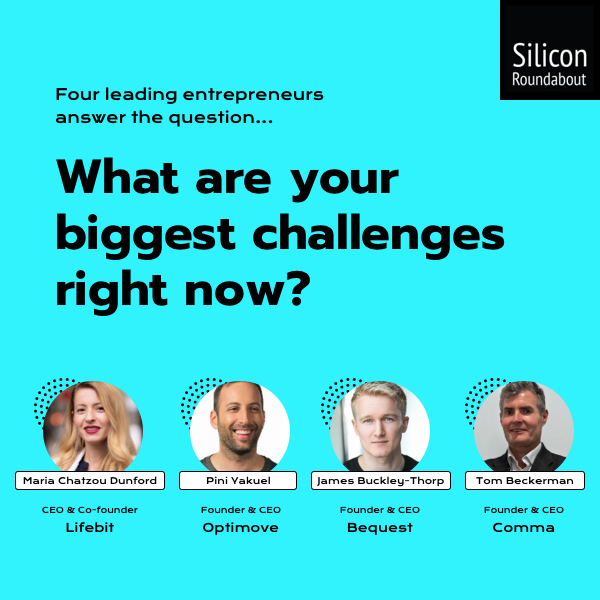 Getting the advocacy we need from the UK Government to support its home-grown tech champions like Lifebit on the global stage. This is seen in the public sector here in the UK, but on the whole the UK has a lot to learn from the US, who actively lobby on behalf of their national champions. Right now our company is also expanding rapidly to match our growing client-base, finding the right talent to grow our team is challenging, there is so much growth in the life sciences and tech sectors at present which means competing with many other leading companies to recruit the best talent.
Maria Dunford
CEO & Co-Founder, Lifebit
– – – – –
Having recently announced a significant $75M growth investment, a huge challenge for us lies in M&A. We already have a successful track record when it comes to acquiring other companies, and of course, we intend to maintain that success. Successfully integrating even more groundbreaking capabilities and game-changing talent into our offering is a main ingredient in Optimove's market-leading formula and a key in making sure our clients are always ahead of the curve when it comes to their relationships marketing and customer LTV efforts.
Pini Yakuel
Founder & CEO, Optimove
– – – – –
I would say Bequest's biggest challenge and focus is attracting new life insurance customers. A delayed purchase culture still exists, and we end up seeing customers who suddenly 'need' life cover whereas with a bit of planning they could have had a more affordable life insurance policy. Some also see it as a 'nice to have' rather than an incredible way to protect their loved ones. In 2 months we had over 2.5K+ customers join Bequest. Changing the way people look at life insurance isn't easy, but we are nowhere near finished with what we have planned! 🚀
James Buckley-Thorp
Founder & CEO, Bequest
– – – – –
As a start up, coming off the back of a successful seed round, one of the biggest challenges we face is scaling our team at speed. We have an incredible team full of talent and potential and, to ducktail that, a truely innovative product that helps us attract some of the best talent in the market. But doing that at speed is always a challenge. We acted early and made two key hires. An amazing internal Head of Talent, Suf and a equally great Technical Talent Manager, Jake. Both of whom who have been instrumental in building our talent pool and hiring some of the key positions we have identified. These new hires will help push us to the next level as we come out of pre-release, release to market and grow the product further.
Tom Beckerman
Founder & CEO, Comma