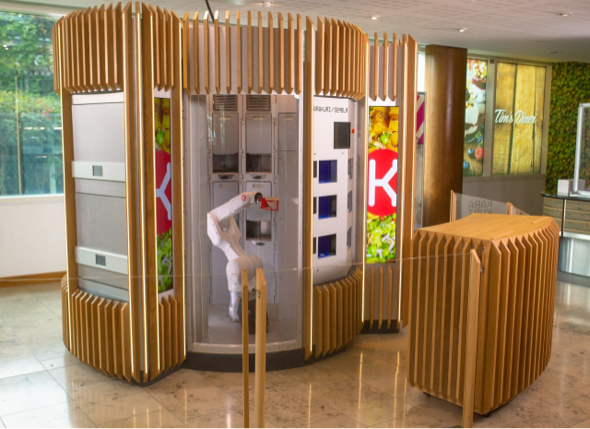 What is the future of food? It is the question on the lips of entrepreneurs, investors and those up and down the global food supply chain. From picking to plate, technology is altering how we interact with food. This turn to technology is driven by complex issues such as growing enough food to feed the planet, huge meal wastage, labour shortages and heavy demands from everyone for quicker service of fresher meals that meet complex dietary needs. It is why we are seeing investment into areas like vertical farming, dark kitchens and automation in the dining industry.
At Karakuri we love food. We love robots and we love people. So we're building a world where we are bringing these three elements together in order to address some of the huge challenges the $4trillion restaurant and food industries face.
In my career, I've been lucky enough to witness first-hand how disruption in industries, like digital entertainment, can significantly enhance everyday life and become the norm very quickly. Now, as I lead Karakuri, there's the mission to do the same – create a new and better experience for everyone. A world where freshly-made, healthier food is as convenient as fast food.
We're using robotics and AI to create a whole new category of personalised food dispensing. Where both the people who provide the food and the people who eat the food benefit.
It has been a complex journey to get to where we are today. Our team of foodies and tech talent are building innovative technology not seen before and that is capable of doing things no traditional restaurant or catering facility can do.
What we created is Semblr – the world's most advanced food preparation robotics technology. It is pushing the boundaries of automation in food service to give people unparalleled choice in what goes into their meals. With 2,700 different combinations of the dishes on offer, customers can specify down to the gram what hot and cold items, proteins, sauces and fresh toppings are included. This is something that is simply not possible in traditional restaurants and commercial catering. We are combining customisation with mass food production without undermining the quality of the food. And because personalisation of a dish goes down to the gram of each ingredient, it is possible to minimise food wastage from the food provider.
This week we reached a significant milestone for our company. We have been able to, for the first time, put our robot in action in a busy dining room. We've come a long way in the two years since we introduced the world to our robot concept. This has been made possible thanks to a coordinated effort between Karakuri, a world-leading food robotics startup, Atalian Servest, a leading facilities management services company, and online supermarket Ocado.
The appetite to try our tech out by the Ocado workforce is outstanding – we're sold out everyday and 80% of our meals are customised.
Semblr's creation is a testament to the hard work of our team and the job's not yet done. The last 18 months have pushed the food and restaurant industry to rethink their approach and adapt to the changes our new post-Covid world presents. We're listening to our food partners and coming up with new and innovative, tech-driven approaches that build a brighter future for food service.