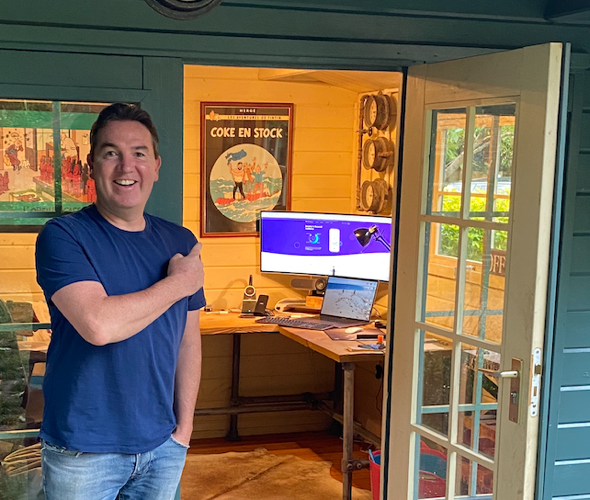 Wagestream was conceived on one simple premise – if you could let workers decide and control when they get paid their earned wages; could you put them in a much stronger financial position by preventing them getting into debt between pay cycles and having to suffer the debt-stress that impacts millions of UK households?
For us to achieve that premise we had to build technology that would be accessible by an entire company's workforce, and it had to be available instantly every single day of a pay cycle – right up to the minute people get paid their wages.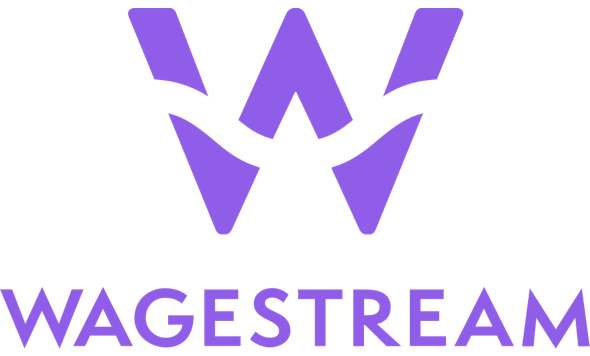 We realised pretty quickly that the critical period of 'financial stress' for most workers is in the last week of a pay cycle – that 7 day period is when British workers are most illiquid and cash flow is lowest [I think we've all felt that at some point in our lives!] . We also realised that it was in this period when pay-day lenders advertised heavily on TV and Radio – in those last 7 days. Hereby called the 'bastards that we must destroy' [BTWMD], these predatory lenders were taking full advantage of the stresses that the monthly pay cycle causes. We felt we could make the need for BTWMD's redundant.
On avg, British workers cash flow looks like this: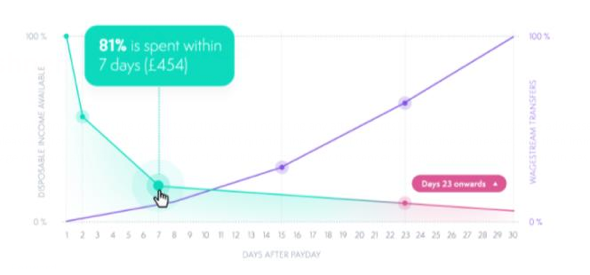 Because we didn't want to provide loans or any form of credit, and just wanted to release the earned money to workers that their employer owed them, It was also important that we knew exactly how much money a worker has earned, every second of every day.
This data doesn't sit with individuals but with the company – which meant we had to access that by contracting with the employer. We also realised that although companies paid their staff every month, they didn't want to fund any payments outside of that period – and aren't set up to do it, so our technology would have to figure out how to do it, and how to fund it. Turns out we needed to be a fintech!!!
Fast forward 2 ½ years and access to earned wages is becoming a thing. Is there anything more empowering for workers than choosing when they get paid the money they have earned?
It's interesting when you think about it holistically – the most positive thing an employer does to their employees is pay them. If this one act didn't happen, I'm not sure how many employees would remain in the employment of a company that didn't provide 'pay' as a benefit. Would you stay for the fruit bowl and yoga class if your company didn't provide wages as a benefit?
"Hey – we have a great office environment, loads of great benefits like free lunches and gym passes, we just don't pay you; when can you start?"
So if paying wages is the most important thing an employer does for their staff – why not make this benefit more real, more flexible and more powerful? Wouldn't that be the ultimate benefit?
Our mission is to provide fair financial services to all – and we're started to realise this mission will never be achieved if the world has to rely on financial products from banks. Since the Medici bankers of Florence, the sole premise of banks has been to make money from financial products, be them overdraft charges, loans or payment fees…
However, if the employer was the bank, wouldn't the incentive for providing financial products be completely different? By providing wages, the employer is already the most important financial institution in many people lives…
An employer thinks differently; they don't want to make money from providing financial services to staff but they do want to provide benefits that increase retention, productivity and ensure higher rates of staff engagement – they don't need or want to monetise those – they look for a different outcome…
So could the employer become the bank, and change the provision of financial services forever, by making them fair? That's what we and our investors [QED, Northzone, Baldteron, Ascension ventures] believe is going to happen – and we want to enable it.