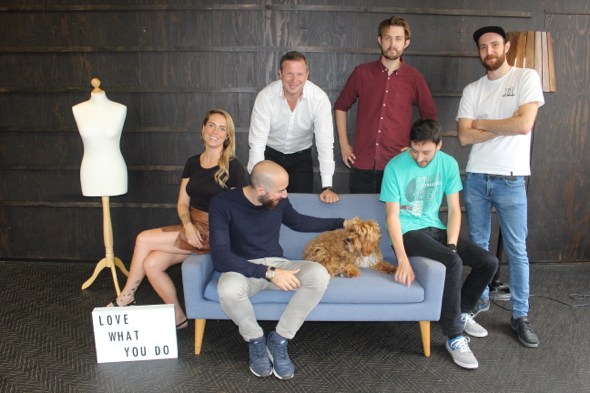 There are always reasons why you feel like you aren't at the right life stage to start your own business: too young – not enough experience, embedded in an existing career – too much to lose if you fail and perhaps the hardest to overcome is feeling too old – like the opportunity has passed you by. Truth be told, there is never a perfect moment, it is always hard and that's exactly the way it's meant to be. Almost like a process of natural selection for commerce, just as there is in nature.
The late Felix Dennis, Founder of Dennis Publishing, wrote an excellent book entitled How To Get Rich and references this point in detail. My father gave me the book fifteen years ago and the experiences shared are as relevant in business today as they were when first published.
When it came to starting HERO, we were fortunate to have an excellent group of investors who had backed me as a 21 year old CEO with Grapple (acquired by Monitise PLC, 2013). Raising seed capital was less about convincing backers that we were the right team with the right idea launching at the right time and more a case of explaining why we were excited for the opportunity that we saw on the horizon. Not so futuristic that our ideas were unachievable, but future-centric enough that our concept had not already been claimed by others.
Our business is now run by a global team of world class operators and experts but it wasn't so grand in the early days… there were six of us: Adam my business partner, our friends and ex-colleagues Katie, Jamie & Rob and the new and very welcome addition to our motley crew Maxime.
We had used a combination of our previous commercial experience and personal opinions to pinpoint that customers didn't have the confidence to shop online in the same way they do in store. They are either left unassisted, or worse – waiting on hold to customer service. From here, we set a mission to power human connections and change the way the world shops.
I remember our first year in business so clearly. Moreover, I remember being given so many reasons why the idea wouldn't work. Some of the feedback was based upon historical fact, most was actually fear of change and all of it could be overcome if we could just get someone to give us a chance. After several months of pounding the pavement, we got our first breakthrough with a leading UK department store, Harvey Nichols and at the same time, a fast growth DTC jewelry brand in New York also decided to sign up.
The success was so welcomed as we could start generating statistics and data to prove out our concept. I'm not sure if any young business is ever truly ready for its early customers and we were no different, associates onboarded in their hundreds, shoppers started spending in their thousands and the sales we were generating amounted to millions in a matter of months. We knew we were on to something and began to push the accelerator on our sales and marketing. The first year ended with a flurry of business wins which was excellent, though we also realized that to keep growing, it would be vital to secure more funding.
The Series A roadshow was a great lesson in fundraising. Understanding that there are a core set of metrics every serious SaaS investor needs to see, appreciating that VCs need to deploy capital just as much as start-ups need to raise funds and most importantly, acknowledging that whoever you raise money from will become an important part of your journey (for the Company & Leadership Team). I was reminded of stories like Boo.com, a great idea but terrible timing & bad investor fit led to a poor outcome for all. The story is expertly documented in BooHoo by Ernst Malmsten, my second recommendation for fundamental business reading.
Fortunately, we were introduced through a great friend and Bay Area super-connector, Lawrence Chu, to S28 Capital. They were refreshingly different to the cookie-cutter investors we had become accustomed to meeting. So many VCs were bursting to tell you how much had been piled into electric scooter or food delivery start-ups but did not have a view on the emerging opportunity we had started to ride, connecting the physical & digital for massive sales uplift. S28 got it immediately and led the round, which gave us $10M of rocket fuel and increased momentum to take our business to the next level.
HERO shifted from start-up to scale-up and the change in pace was palpable. Our team really started to grow under the guidance of three fantastic additions to our leadership; James Piccirillo, Ryan Grace & Natasha Franzen. Two had been colleagues previously and one was a prospective customer who believed in our vision so much that they agreed to take a senior roles. Now we had Chief Finance Officer, Chief Revenue Officer and Chief Operating Officer respectively. Through them, we were able to accelerate in places that you simply cannot with a lean founding team.
We spent the next two years growing our company in the most productive and intuitive ways. I moved to NYC to start building our US business, it was just like they said it would be… dinking from a firehose. During the early months of starting in the US we didn't even have an office (my dining table had to suffice) and already our customers were talking about us in The Wall Street Journal & Forbes. Major new wins followed including Levi's, Nike and LVMH.
Fast-forward to present day and we have over 100 customers, with thousands of associates and millions of shoppers spending through HERO every month. Even with the events of COVID-19 growth did not slow, in fact the positive business impact that we set out to achieve in the early days has been amplified and intensified because of the surging demand to power shopping from home.
I am proud that HERO now operates a totally dispersed working model with colleagues based across North America, Europe & APAC. We are doing our part to counteract the social & commercial turmoil and it motivates our team to hear that thousands of jobs have been saved thanks to sales associates being able to sell from anywhere (including remotely) through HERO.
Customers no longer have to make spurious trips to store, instead they are able to connect to the most knowledgeable brand experts who chat, send pictures & video as well as live stream product details and recommendations from around the world. Shopping might not be life or death, but I can tell you from reviewing thousands of customer interactions that they appreciate the innovation; whether its making a special purchase or everyday spending, the sense of normality that speaking with another human brings is reassuring for shoppers and also good for business. If you want to learn more about this kind of people-power at scale, Clay Shirky wrote the excellent Here Comes Everybody and it is well worth a read for ideas that can still be applied today.
Now our attention turns to the future and how we continue to expand the benefits of HERO to as many retailers as possible. Our teams are focused on the next set of challenges and opportunities; all of which have the ability to improve the way we live and spend as shoppers and accelerate the much-needed upgrade to the way brands trade; digitally, physically, permanently.