In the second part of our  'Regret minimisation' blog we caught up with CEO'S Johnathan Agnès of Foodity, Tom Allason of Shutl and Tom Adeyoola of Metail.
In the 1990′s Jeff Bezos hesitated before starting Amazon after a respected colleague advised him against it(see The Economist 3rd-9th March 2012). However, he applied "'what he calls a 'regret minimisation framework', imagining whether as an 80 year old looking back, he would regret the decision not to strike out on his own".
They tell the story of what 2012 holds for them and why as 8o year olds looking back they won't regret striking out on their own!
Tom Allason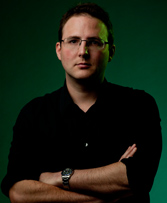 Shutl is a branded web-service offered by retailers to shoppers that enables immediate or convenient delivery of online purchases.  Think of us like Paypal but for awesome delivery.  Delivery inside 90 minutes of purchase or at a time of the shopper's choice, offered 24/7 at a similar price-point to standard delivery.
2011 for Shutl was all about proof of concept.  We took our service live with our first major retailers albeit in a very hackish manner.  While the implementations were not pretty they enabled us and our retailers to determine (for least effort/cost) whether or not Shutl was worth investing in.  We also took our service into 11 new cities to prove that our proposition was not just a London thing.
2012 is all about finding scale.  We recently raised some investment, completed our first truly integrated retailer implementation and expanded coverage to include another 20+ towns.  Our objective for the year is to increase coverage to 90% UK and get sufficient retailers online that by Christmas we can begin making a real impact on buying behaviour… not just making shoppers more likely to purchase from a retailer offering Shutl but also influencing where they choose to make their purchase.  We are also focused on working with key partners and developers to make our service easier/quicker to implement.
Regret minimisation never really had anything to do with it for me.  I made myself unemployable at a very early age and so had no option but to work for myself.  I left my previous startup (ecourier.co.uk) to start working on Shutl because it was clear that the market opportunity was in B2C (not B2B) and in being horizontally (not vertically) integrated.  My choice was to either own a small slice of something small or a big slice of something (potentially) big.  I found the prospect of the latter to be more appealing plus it was going to be a lot more fun.
Tom Adeyoola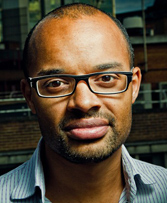 2012 is a breakout year for us at Metail after a lot of hard work and effort.  We launched our first virtual fitting room application publicly with Tesco on 29th February, which was a fantastic customer for us to launch with as our first partner.  Our next high profile retailer launch is just days away and we have a fantastic commercial and development pipeline ahead of us.  Last year was about getting the product to commercial readiness and building out the core team, which has gone from 4 to 20, and this year is about roll out, revenue generation and growth to become the leading body size and garment fit visualisation company.
When I chose to leave my safe job and career, as Head of Gaming for Inspired Gaming Group, in 2007 to create Metail, the decision was initially not that daunting for me.  It was still boom time, the company was about to sell so I was going to make some options and my bosses and potential investors were about to get rich.  Plus the previous 2 years had taught me how to manage big teams of people and deliver market leading products from concept through to international scaled roll out. All seemed rosy.  However, in a matter of days things changed, the deal with the Icelandic bank that was going to buy Inspired collapsed and the economy imploded.  Like Jeff Bezos though I decided that despite no immediate prospect of funding and a doom laden economic outlook ahead that I would only regret it if I didn't take advantage of the opportunity to start what I thought would be a great business because the market timing was now.  I rationalised my risk versus the opportunity and managed to benefit from a lot of lucky breaks to stay alive. But to paraphrase the famous Gary Player quote, the harder I worked the luckier I got.  My mortgage interest rate collapsed and throughout a period of two and a half years of no salary, consultancy opportunities arrived out of the blue to keep me afloat that extra month more to reach the business milestones and objectives set.  Had I seen the level of hard-work and effort needed to create the cutting edge technology and business model for Metail when I started I might have been too afraid to start, but four years in after learning to live cheaply, my accrued debts have already been recovered and I always had the opportunity of going back into a job like I had before.  So in hindsight starting a business was not really risky at all.
Johnathan Agnès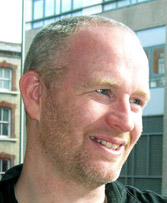 Regarding what 2012 holds for foodity as a business… The last few months of 2011 were amazing: some of the US and the UK's biggest food producers, retailers and publishers came on board as clients, partners or associates, and a seasoned technology entrepreneur joined us as an investor and co-founder – which really put some rocket-fuel in our tank. In the first couple of months we had one of the world's biggest retailers build a pilot on our platform, which has led to two projects, and we're in the middle of on-boarding dozens of big packaged-grocery brands in the UK and US. Apart from that fact that we expect our team to more than double in size over the coming few months, which will be a considerable challenge in itself, 2012's biggest challenge will be delivering all the consumer benefits that were the whole point of creating foodity in the first place. We want shoppers to be able to easily eat to their preferences, be they dietary, budgetary, lifestyle or ethical preferences; and that's something we're only really just starting to achieve. But by the end of 2012, hundreds of thousands of consumers, and hopefully millions, will enjoy those direct benefits thanks to what we're doing.
Like a lot of tech founders, 'regret minimisation' is probably an intuitive part of what drove me to build a start-up in the first place. I spent most of my career working for two non-tech start-ups (in both cases led by gifted, self-made, entrepreneurs), helping them build their businesses from a position of comparative security – in each case I was the ventures' first full-time employee. There was an amazing buzz watching these enterprises grow to sizeable, established concerns during my time with them, partly through my own efforts. In both cases I was very aware that the founders took considerable personal risks, persevering at times when rewards were scant and prospects pretty grim.
These days though, both ventures are fabulous, widely-admired businesses, that have delivered lots of material and personal rewards to their founders, and there's no question that they're both glad they stuck it out through challenging times. When I decided to strike out on my own it was in part because I was sure that if I reached retirement and had only ever been a passenger, or a capable deputy, I would regret it. Plus, salaried employment was unlikely to ever deliver the independence, fulfilment and rewards that I'd seen entrepreneurship deliver. On the flip side, I was pretty sure that if I crashed and burned within a couple of years of striking out on my own, I was sufficiently thick-skinned to live with the ignominy! That's an important side of the regret minimisation equation too.
Thank you Tom, Tom and Johnathan.
To find out more about Shutl, Metail or Foodity visit their websites at shutl.co.uk, metail.com and foodity.com
Alternatively, to find out more about available office property in the Silicon Roundabout area contact Kushner at www.kushnerproperty.com