The 'ecosystem' that is Silicon Roundabout continues to thrive at a healthy pace as what is generally a narrow geographical cluster continues to attract a plethora of both entrepreneurs and startups on an almost daily basis.
The challenge and general consensus remains the difficulty in hiring 'talent'. Feedback confirms that this is a potential hindrance to growth.
Wired magazine this month runs an excellent piece celebrating the startup world 'on everything from how to recruit developers to how to build a global online brand'. In the magazine Brett Putter of the Forsyth Group makes an interesting point "When making a hire, ask yourself" Would I enjoy sitting next to him /her on a long haul flight?".
The question is how do you find the passenger to sit next to in the first place?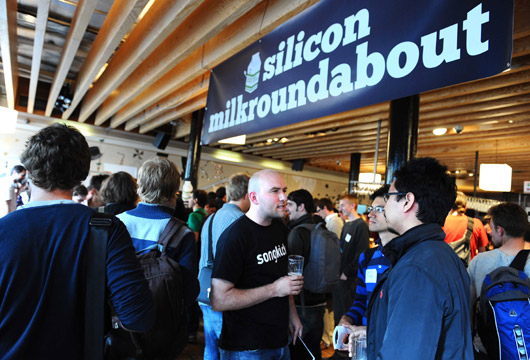 Well, announced this morning is the return of Silicon Milkroundabout where this May 26th and 27th approximately 105 startups will be offering over 800 jobs. Taking place in the Old Truman Brewery warehouse on Brick Lane, the goal will be to attract 3000 'of the brightest minds in the business and persuade them on the idea of joining a startup'.
Created by Pete Smith and Ian Hogarth, co-founders of Songkick the two day event will be focused upon 'Product Management and Design' on Saturday and 'Engineering' on Sunday.
The stats from the last two events are pretty amazing. Attracting 1876 jobseekers, 168 jobs were filled across 133 startups!
There are 1500 tickets available free each day and we will be there blogging away!
For more info see www.siliconmilkroundabout.com