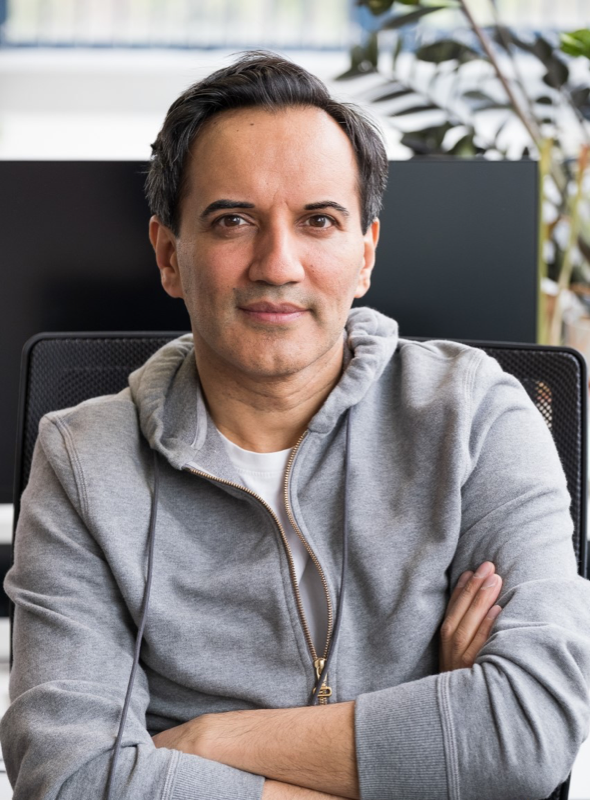 What was your vision for founding Cervest? Tell us more about how Climate Intelligence plays into this.
The idea for Cervest was conceived as I was operating my sustainable agribusiness company in Ghana. Although well-funded, we had no way to assess how climate change affected yields and processing assets.  This led me to team up with mathematicians to help quantify climate risk – and that's where Climate Intelligence (CI) comes into play.
CI is Business Intelligence for managing climate risk. With climate volatility increasing, it's critical for companies to be able to use CI to make fully informed decisions based on climate's likely effects. They need to be able to build asset-level resilience while contributing to a low carbon economy – in other words, to be "climate intelligent". Five years on, we've created the world's first AI-powered Climate Intelligence platform that delivers the standardised, science-based view of climate risk we all need.
How has COVID-19 affected the business over the last 18 months? Did it play a factor in your recent Series A funding round?
We managed to close our oversubscribed, $30 million Series A funding round during the third lockdown, going from initial presentations to a negotiated term sheet quickly. The urgency around climate risk is high – 67% of the population agreed that climate change posed an even greater risk than COVID, even during the peak of COVID. Furthermore, COVID taught the world that we can't count on emergency response to be the first line of defence against disaster – including extreme weather events. We need actionable intelligence to manage risk, plan, and find new opportunities. Investors recognised that's what we're working on at Cervest.

Tell us more about becoming B-Corp Certified – what does this mean to you and the team?
BCorp status was a key achievement for us. Certified B Corporations are companies that use the power of business to build a more inclusive and sustainable economy — and we're proud to be in that club.
The B Corp certification covers five key impact areas: Governance, Workers, Community, Environment, and Customers. It demonstrates our long-term commitment to maintaining rigorous standards and promoting the B Corp values and goals with ongoing verification every three years.  We view this as a milestone on our journey to help enterprises and governments protect their most important assets, including our most valued asset, the planet.
What do you believe to be the greatest threat to business in the future and what can be done to help?
Businesses, governments, regulators, and investors need science-based plans to build climate resilience, meet decarbonisation targets, fortify supply chains, and minimise future asset disruptions and value loss. Yet there is a lack of climate literacy amongst them.
The greatest threat is that these organisations don't have access to the correct information to quantify, interpret, or integrate a climate risk strategy into their operational decision-making process – the risks are too complex, multi-dimensional, and computationally intensive. And as disclosure rules tighten on both sides of the Atlantic, this becomes even more difficult.
Organisations must understand that decarbonisation alone does not insulate them from climate risk. The physical impacts of climate change are clear to see – the heatwaves in N. America, flooding in Germany and China – and businesses need to be ahead of the game to ensure their assets are protected. Climate Intelligence is the solution we need to de-risk decisions and build a more resilient future.
Do you believe that data research and AI alone will help organisations shift from declaring climate emergencies to actually acting to prevent them? What will it take for action to be taken?
AI is not the entire answer, but it is important in providing automated insights that are crucial to decision making and are a cornerstone of Climate Intelligence (it's one of the things that separates intelligence from analytics).
The key to driving action is democratising data – making it open to everyone so that we can create a single source of truth for climate risk. EarthScan, the first product on our CI platform, gives enterprises and governments on-demand access to current, historical, and predictive views of how combined risks such as flooding, droughts, and extreme temperatures can impact the assets they own or manage. Insights are available across multiple risk categories simultaneously, going back 50 years and looking forward 80 years. That kind of Climate Intelligence will help companies standardise climate risk assessment, spur new conversations, and foster an open and common dialogue on shared asset-level risk and opportunities to drive action.