The traffic on UK roads has fluctuated hugely over the past twelve months. As the country went into its first lockdown, the public's relationship with everyday transport methods changed almost instantly.
While most hoped that these lifestyle adjustments would be a temporary measure, time has proven that the impact of the pandemic will be felt long beyond its immediate threat, both at home and on our roads.
Working from home
In line with most aspects of the 'new normal', our working environments look a little different now compared to how they did a year ago. A recent survey we carried out showed that on average, commuters have cut 30 miles a week from their pre-pandemic driving. This is largely due to increased remote working, where the commute for many is now from bed to desk, with a quick stop for caffeination along the way.
Based on our research, we project that 3.5 million drivers have stopped driving to work since the first lockdown began. Data we collected last summer showed a growing public appetite for reducing car usage on a long-term basis, with 72% of UK drivers planning to cut down their annual mileage in the next year.
Our own Daily Miles index showed us the instant impact lockdowns have had on driving behaviour, with the the most recent lockdown in January 2021 over halving the daily miles driven by our members, compared to January the year before.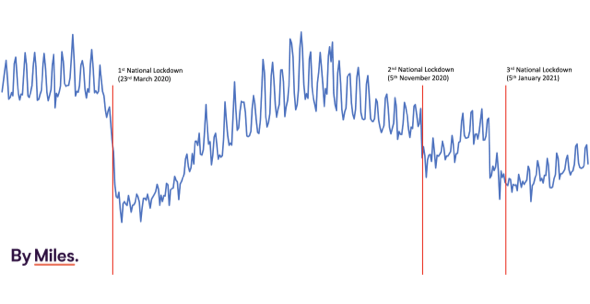 It's clear that cars are now becoming less of an everyday necessity, particularly when it comes to getting to work, so drivers are seeking out car insurance policies that better suit their new lifestyle. With flexible working comes a growing need for more flexible car insurance. A parked car poses less of a risk of needing to make an insurance claim compared to a moving one, after all. In 2020, the topic of insurance refunds hit the headlines in the UK, and across the pond in the States, as people recognised that driving less during lockdown lowered their risk of claiming and should equate to lower premiums. Motorists know their rights – and they want to be rewarded with cheaper insurance.
Usage-based car insurance
At By Miles, we offer a car insurance policy that's tailored specifically to your driving habits. The driver pays a fixed upfront cost to cover the car while it's parked, then just pays for the miles driven after that. Using our telematics device, we count the miles driven and then provide drivers with a summary of their costs at the end of each journey. Drivers are in control of their spending and can see directly where their finances go.
Insurance is a legal requirement in the UK, but it's also the enabler of mobility. Pay-by-mile policies have proven their worth during lockdown, but their value extends beyond the nation's restrictions being lifted. With working from home set to become a permanent or semi-permanent fixture for many, along with newfound lifestyle changes taking hold, car insurance needs to offer flexibility that goes hand-in-hand with that. The existing 'one size fits all' approach just won't work. Just like the path forged by convenient access to taxis and take-away food, insurance should adapt on demand.

The future
In some cases, the daily commute has now become obsolete. Car insurance policies must reflect that. Aside from the environmental benefits of driving less, drivers deserve monetary incentives to explore new ways of getting around. It makes sense for drivers to stop paying when they stop driving.
The car insurance industry has a chance to shape the future of motoring by introducing a fairer pricing model that accounts for changing driving patterns in our new world. Usage-based insurance isn't just a way for drivers to save money during a pandemic. The benefits stretch far beyond that.
We welcome a future where insurers see fewer claims during rush hour, drivers pay less when they're not driving, there's less congestion on our roads, we see the benefits of reduced emissions, public health improves, and the roads are safer for all. That's my idea of a decent new normal.