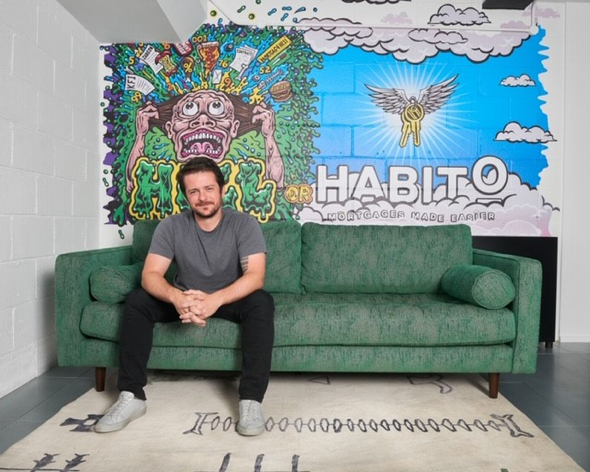 1. Would you describe Covid 19 as a catastrophe or an opportunity?
It's fair to say it's been a bit of both! At Habito, we were fortunate that we already had a business that was 100% online. It's how we built it, five years ago. Although we had a culture of working from the office, all staff were already set up to work remotely if they needed to so the transition was seamless. Plus, with highstreet brokers closed, our business was in the best position to make the most of consumers turning online for their goods and services during lockdown.
That said, in March and April it was hard not to see it as a catastrophe for the property industry. Everyone who was in the process of buying a home was affected by the economic slowdown. Overnight, estate agents shut their doors, home-moving services had to stop moving people and some of the key processes to getting approved for a mortgage like an in-person valuation, could no longer happen. The mortgage market changed beyond recognition. Lenders rushed to adapt to the new conditions by putting strict limits on the number of applications they could process each day and pulling a number of products at the higher loan-to-value range (80%+).

Thankfully, with the reopening of the market in May, property sales started to move once again. Following the Chancellor's stamp duty holiday, we've seen traffic go through the roof as homeowners rush to save up to £15,000 on the tax before March 2021. August is on track to be a record month for us, as all indicators at the moment point to the housing market is enjoying a mini-boom. Pre-lock down we launched 'Habito Plus' a complete service for every aspect of home-buying. We take all the hassle of buying off your shoulders by sorting the property survey, the mortgage, the legal work, everything you need. It's a proposition that's really resonated with buyers, so we're very excited about that.
2. Is capitalism failing society and how important was it to become B Corp Certified?
The days of corporations only caring about profit are over. Beyond the fact that it's just the right thing to do, consumers care that they are buying from companies that treat their employees well, that have workforces that are diverse and representative of their customer base, and who have put thought towards their impact on our planet.
Achieving B Corp status was something that's been important to me since starting Habito. If you didn't know much about it, you might think it's just a green-washing marketing exercise – but the process to get accredited was long and difficult. Which of course, is what makes it meaningful. To become a B Corp, the business was assessed and audited against rigorous standards of social and environmental performance, accountability and transparency. The accreditation process examines everything from a firm's carbon footprint and partners' supply chains to diversity and inclusion policies and helping vulnerable customer groups. For our B-Corp journey, this is really just the beginning – we'll be inspected again for the accreditation every three years, to higher standards each time, so we need to show continuous improvement from here on out.
3. What makes a great team and how do you focus upon delivering customer value?
We hire from a diverse mix of backgrounds because we want a team that can bring their own lived experiences to bear when it comes to making decisions around our product, marketing, operations and more. Cognitive diversity within a team enables us to be really empathetic to the different types of hell that getting a mortgage can be. We understand our customer's fears, concerns and worries around getting a mortgage – from application to approval – and this appreciation has led us to create customer journeys that are designed to minimise those stresses. And of course, we're all online, we're free from start to finish and our mortgage experts shifts include weekends and late evenings – so to us, that's delivering great value.
4. Is remote working the end of collaboration?
There's a worry from many businesses that those 'water-cooler' conversations won't happen anymore, and how do you account for spontaneous collaboration when everything has to be scheduled over Zoom, or agreed on Slack?
We might not have the answer to that yet, but at Habito we've seen great benefits to remote working, and improved collaboration in certain areas of the business. We've seen more engagement in our all company meetings, for example. Using the chat function on Zoom, anyone can contribute with observations, questions and thoughts during the presentation – something only the very brave did publicly during the 160 in-person weekly update. Above all, lockdown has given all of us the chance to get to know our colleagues on a more personal level – we've seen their cats, children, significant others, taste in decor all make appearances via the camera screen! Sharing more during this time has really brought us together and has helped us collaborate.
5. Having raised over €69m across multiple rounds, how do you feel Habito has resonated with Investors where others have failed?
Our investors know that we're solving a real problem that millions of people face buying a home. Back in 2016, we created Habito to end mortgage hell forever. No more paperwork, jargon or misinformation. No more stress. Owning a home should be one of the highest point in our lives. But for far too many of us, buying a home and sorting a mortgage is disempowering and confusing. Our investors really want to support us on our journey to fix mortgages and make homebuying fit for the future because they understand the severity of the problem.
Secondly, since starting Habito, we've seen minimal movement from banks and lenders to develop technology to improve things. Our investors know that we're coming at the mortgage problem thinking big; creating end-to-end homebuying services that have never existed before, developing new types of mortgages that are unique to Habito. We're reimagining the whole buying process. Our investor's are interested in market shifting technology, and that's what they see in us.
6. What critical milestones have you overcome in your entrepreneurial journey?
Surviving 2020 has felt like the most critical milestone in my career, it's certainly been our most critical time-period in Habito's history. At the start of the year, the fundraising environment was already tricky but became exceptionally tough from March onwards. At the same time, the property and mortgage market was frozen for most of April and into May and we didn't know when it would be back.
I'm hugely proud of the Habito team for pulling together and being so resilient and resourceful during such uncertainty. Coming out of lockdown with our Series C closed – £35m raised with some brilliant investors onboard, and the property market back in business with a bit of a boom, has demonstrated to me that Habito not only survived, but thrived in this period of unprecedented market conditions.