It's an exciting time in the world of startup flowers. In the US, a number of startups are disrupting the $35B flower industry, and Bloom Nation, Urban Stems, The Bouqs, and Bloomthat have all recently raised venture capital funding to offer modernised, user-friendly flower buying experiences.
The flower startup craze isn't just confined to the US though. I co-founded Bloom & Wild in 2013 with the aim of creating the best possible flower buying and receiving experience here in the UK. Our goal is to make it possible to send flowers in seconds, and to make receiving flowers as easy as receiving a letter (our flowers fit through the letterbox!)

After 2 rounds of angel funding in 2013 and 2014, we also went down the venture funding path, led by MMC Ventures, in the summer of 2015. The response from our early customer base gave us the validation we needed that we could genuinely pioneer the modernisation of flowers in the UK, and at that point we were keen to bring the Bloom & Wild approach to buying and receiving flowers to as many people as possible, as soon as possible, with the best possible technology. This required an influx of capital, and so venture funding was the right thing for our business last June.
What's fundamentally changing in online flower gifting is similar to the shifts in several other ecommerce categories – a move from Google-led search to a more branded, mobile-first experience. 5 years ago, consumers would regularly conduct a Google search for a minicab firm in their local area, call up a few firms to get a price, and then make a booking. Nowadays, Uber has virtually eradicated this behaviour through a combination of ease of ordering/payment, wait time, pricing and trust. The flower industry is just at the start of this change though – Google is still the most common place to start a search for an online flower gift. And with all of us shifting to primarily using the internet on our smartphones, that search process has become more cumbersome. Mobiles make lots of things easier, but they make it harder to compare multiple web pages side by side, and they make it harder to fill in online forms. This gives way to mobile first services (both apps and mobile web) that drastically reduce choices a customer needs to make, web pages they need to load, and typing they need to do on their phones. At Bloom & Wild, we're obsessed with these details, and our app's integration with users' address books, birthday calendars and payment details genuinely makes it possible to order flowers from an iPhone in 10 seconds.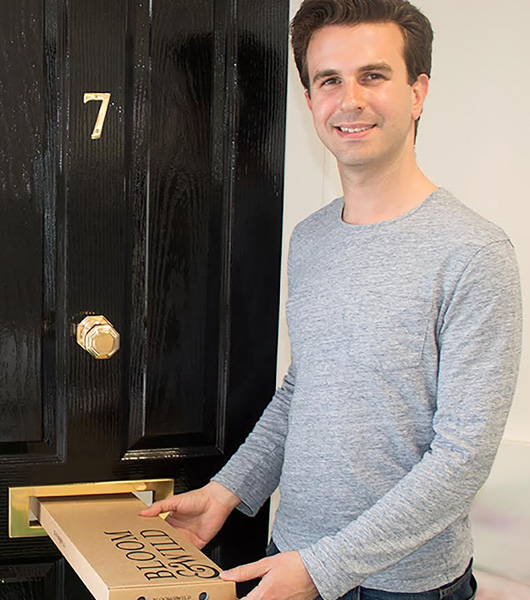 There's a long way to go with Bloom & Wild – we're just starting to trial 2-hour on-demand deliveries in Central/South/West London via our new Bloom & Wild Now service. We think solving speed of delivery is the next piece of the jigsaw to go alongside ease of ordering and ease of receiving. Over Christmas, we sent mini Christmas trees through the letterbox, and the strong response means that we're now exploring all sorts of other exciting letterbox gifts, so watch this space!