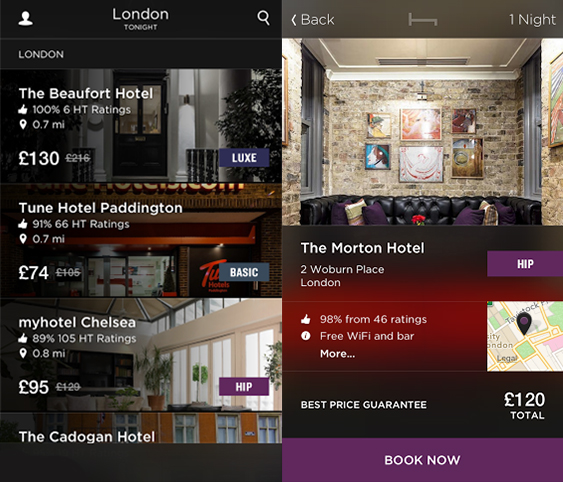 By Heather Leisman, MD for Europe at HotelTonight
The San Francisco-based company, HotelTonight, was built exclusively for mobile from the ground up. In only three years the app has grown to more than 10 million downloads and 300 destinations worldwide. How does HotelTonight's "mobile only" business model work?
Fifteen years ago, the internet transformed the distribution of hotel inventory, today hotel bookings are considered to be the biggest category in e-commerce worldwide.  And increasingly, the numbers are shifting towards mobile. According to a 2014 Google travel report, 15 to 30 percent of all hotel and travel bookings are made via mobile devices, and of these, 70 percent are for same day stays (according to Harris Interactive).  Needless to say, the competition to capture travel's growing m-commerce traffic is fierce.
The hotel industry is not alone in experiencing this mobile revolution, the convenience and ubiquity of mobile devices make them geared towards on-the- go purchases and the impact has been widespread. The retail, banking, music and gaming industries have seen their customers increasingly come from mobile platforms. A consumer research study by Deloitte shows that 1 in 3 people in the UK prefer to shop using an app rather than a website and 44% say they want more apps for their every day activities. However, there are 1,000,000 apps in the App Store and Android's Google Play boasts similar numbers, yet the average smartphone user has only downloaded 26 apps*** to his/her phone.  So as a company, standing out in the crowded mobile space is not easy and creating an app that meets mobile users' expectations and needs from the outset is of primary importance.
What is HotelTonight's key to success?  There are a handful of important guidelines that this popular app lives by, which can be leveraged by just about any app developer:
1. Sacrifice choice for simplicity
Smartphone users have low tolerance for loading times or complicated search.  As such, your mobile app should not be a mini version of your site, but rather it should allow users to do the most important thing as quickly and seamlessly as possible. HotelTonight's curated display features a limited number of high quality, vetted hotels with a best price guarantee thereby eliminating the user's need to look elsewhere.
2. Eliminate hurdles & decisions
Smartphone users are not looking to research or shop.  They do not want to click through pages of offers and recommendations, but rather the app should enable them to accomplish their goal as quickly as possible.  For HotelTonight, that means we make several decisions for our users such as the date (tonight), the number of people (no more than 2) and their room category (run of house) and as a result, customers can book a room in less than 10 seconds.
3. Leverage the device's features
Smartphones are equipped with unique elements, such as geo-location, built-in camera or accelerometer, which should be leveraged to make the experience more relevant and more fun.  And unlike PCs, which may be shared among many users, mobile devices are very personal allowing for an additional level of personalization.
*** Google's Our Mobile Planet, 2013
To find out more about available office property in the Silicon Roundabout area contact Kushner here.