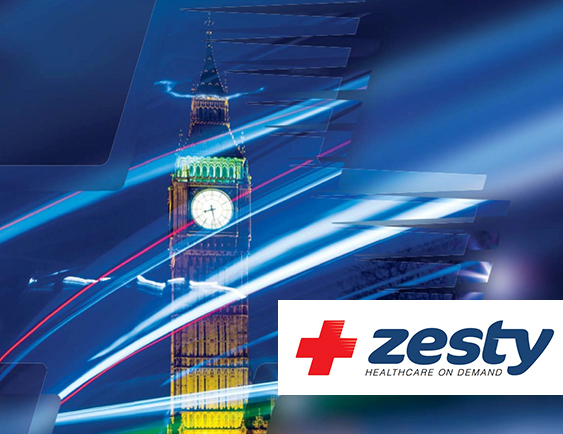 By Lloyd Price, Co Founder & Chief Operating Officer, Zesty
London is rapidly gaining a reputation as the 'FinTech" capital of the world as investor appetite for disruptive startups in the financial services market increases beyond Angel and Seed financing rounds to serious multi million dollar Series A and B investment rounds. Payments, money transfer and foreign exchange focused Tech companies are moving fast and positioning themselves as market leaders in multi billion dollar untapped markets with the potential for exponential growth. It's hard to think there could be even bigger, more lucrative and untapped markets than FinTech right ? Wrong, let me introduce you to one of them, the world of HealthTech …
HealthTech or Digital Health depending on which side of the Atlantic you are based is also rapidly gaining attention from the "startup ecosystem" of entrepreneurs, government initiatives, corporate incubators, developers, designers, angel investors, venture capitalists and journalists in London. In just the last few weeks we have seen the launch of Med City by Boris Johnson, a new £50m "Challenge Fund" for GP services by David Cameron, health focused startup RotaGeek be shortlisted for Wayra UK's 2014 mentoring programme, NHS focused startup Healthberry beta launch to measure patient feedback and Zesty, an online healthcare booking service raised another multi million dollar investment round. Also, looking forward to next week, we have the Wired Health 2014 Conference designed to introduce, explain and predict the coming trends facing the medical and personal healthcare industries.
So why all the attention on HealthTech now? What is going on in London? In one word … innovation. Startups like Zesty are focused on solving real day to day problems for consumers and building real businesses within the healthcare space through innovation. For the first time in history, people in London can choose and book from thousands of NHS and Private healthcare appointments everyday on their smartphone, tablet or computer. Zesty is transforming access to healthcare by addressing the needs of both sides of the market, supply from practices and demand from patients in order to make booking dentist, doctor, physio and other healthcare appointments as easy as booking a flight, hotel or restaurant.
Innovation has the potential to generate massive rewards, the private healthcare market in the UK alone is worth an astonishing £25 Billion per annum, patients spend over £8 Billion a year on Dentistry in England, Northern Ireland, Scotland and Wales and forecasts until 2017 show further growth. Mainstream consumer brands like Moneysupermarket, Just Eat, uSwitch, Secret Escapes and Hailo have all successfully become industry leaders in multi billion pound markets by innovating the customer experience and focusing on solving day to day problems. At Zesty we believe now is the perfect time for a HealthTech industry leader to emerge and grow into a mainstream consumer brand.
We are not alone, early stage Skype investor Mangrove Capital Partners agrees. They also see online health care access as the next big disruptive trend in health and have provided first and second round funding to help us realize this vision.
To find out more about available office property in the Silicon Roundabout area contact Kushner here.