It would be very easy to dismiss Tribesports as simply a social network for sportspeople!
However the approach and desire adopted by three former executives from Mydeco, Steve Reid, David Hickson and Jenna Anians, as well as co-founder Andrew Mcdonough, since launching in open beta in June 2011 convinced investors to act boldly and support the Tribesports evangelists with a £1.8m Series A funding round (December 2011) in addition to the £280k Seed round raised in 2010.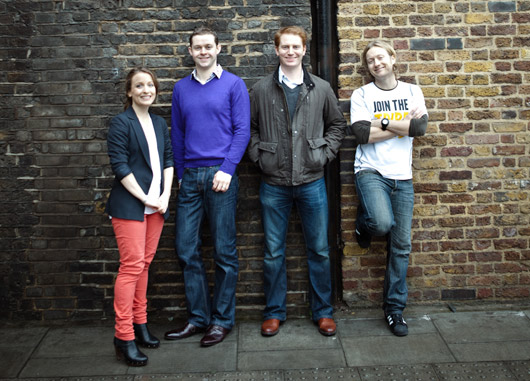 Tribesports is making sports activity more social with both 'Tribes' (based upon favourite sports or interests) and 'Challenges' (to help motivate users to get active). Social commerce is derived through followers offering advice not just for training  but critically for equipment purchasing choices. Users are able to search amongst 1.5m products from over 250 retailers. Tribesports monetise the offering by taking commission for both referrals and sales. Targeted sponsorship and advertising packages further augment the potential number of income streams.
As the headlines relating to Mobile keep coming in the press ('Challengers face tough task in search for mobile profits' Financial Times, May 30th) as do the conferences (AppsWorld London is at Earls Court 2nd/3rd October 2012) a mobile app for IOS has just been launched by Tribesports as has a push into Singapore. An android app is being worked on, and we are told that an open API should be available by the end of July, so that the developer community can use the platform to develop fitness and sports apps themselves.
We caught up with CEO Steve Reid and asked him about the perils of being an entrepreneur…
In Wired magazine's July 2012 edition Reed Hastings, CEO of Netflix, comments "as an entrepreneur you have to feel like you can jump out of an aeroplane because you're confident that you'll catch a bird flying by. Its an act of stupidity, and most entrepreneurs go splat because the bird doesn't come by, but a few times it does. Most entrepreneurial ideas will sound crazy,stupid and uneconomic, and then they'll turn out to be right…"
Looking back, how daunting was it jumping out of the plane and launching Tribesports and how is the business model evolving to ensure you catch that 'bird'?
"Daunting? Ignoring the craziness that comes from a group of career established professionals quitting their jobs to work for nothing, I think the excitement and belief in what we were doing overrode the fear. Throwing in a social cause related to getting people more active, and we were really filled with a belief that we simply had to jump out of that aeroplane.
We were really confident in the problem we were solving, and the size of the market we were looking at. We knew what we were doing from other verticals, and we were going to be working in sports. To be honest we created dream jobs for ourselves!
We never doubt that we'll catch that bird, even if it means pivoting. I believe in lean startups, and following data. What works, do more of. Our model is always evolving, keeping sports people and a mission to get people more active at the core of what we do – but the direction we take it in can change, often monthly.
That's really important – we have a strategic vision of where we're going, but the route there is not as the crow flies. I think start-ups can fail when they stubbornly pursue a direction – you need to change the route a little, keeping in mind your destination – and chances are you'll arrive. It also helps that we have purposefully hired people with a passion for sports. We took the skill sets that make a good sportsperson and applied them to business and our team. And great sports teams rarely fail to achieve something."
Thank you Steve.
To find out more about Tribesports visit their website at Tribesports.com
Alternatively, to find out more about available office property in the Silicon Roundabout area contact Kushner at www.kushnerproperty.com