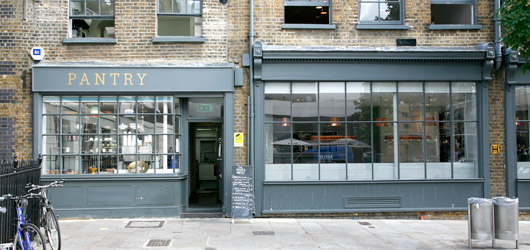 Its very easy to get carried along with the weekly chatter about the 'commercialisation' of 'Silicon Roundabout'.
Clerkenwell, Farringdon, Shoreditch and Hoxton continue to witness an influx of the creative, determined and visionary but that really doesn't mean that the area is set to become a soulless, vanilla copy of other areas of London that many argue have lost their identity to the cash of the ubiqitous 'brand x'!
Much has been made of the term 'charm' in its many guises, but in particular in terms of its loss by way of retail experience, to the desire for fast 'no nonsense' service.
Are we living in some utopian dream to think change does not mean the end of 'charm'? No, and here are four of our favourite coffee/breakfast stops!
1.The Modern Pantry (47/48 St John's Square,Clerkenwell,London,EC1)
Anna Hansen opened the doors of The Modern Pantry in 2008 and has since gained two AA Rosettes and been listed in 'COCO' By Phaidon Press as one of the worlds top 100 up and coming chefs. The building is a stunning townhouse in the heart of St John's Square with café and pantry on the ground floor and restaurant on the first floor. To say it is stylish, smart and yet casual would be an understatement.
www.themodernpantry.co.uk
2.Prufrock Café (23/25 Leather Lane,London, EC1)
Nestled in Leather Lane it is well worth immersing yourself in the world of the Prufrock Café of which Gwilym Davies, UK and World Barrista Champion 2009 is one of the proprieters (you cannot say that about many coffee outlets!).
Listed in the Evening Standard as one of London's One Thousand Most Influential People Gwilym even has a lower ground floor dedicated to information, training and coffee education.
www.prufrockcoffee.com
3.Shoreditch Grind (213 Old Street,London,EC1)
Established in 2011 David Abrahamovitch's hangout, located right on Old Street roundabout with its iconic sign is fast becoming one of the areas most stylish Independent espresso bars!
www.shoreditchgrind.com

4.The Book Club (100 Leonard Street,London EC2)
Occupying two floors of a spacious former victorian warehouse on Leonard Street, The Book Club is one one of the 'stars' of 'Silicon Roundabout'.
Quirky and 'more' than a little bit different it is not just about coffee, breakfast etc. The Book Club is also home to a programme of events that cover fashion, music, film and design!
www.wearetbc.com
If you have any other recommendations feel free to add them as a comment to this post.