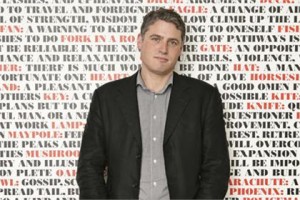 We are delighted that this weeks "Five minutes with…" interview is with Jason Goodman CEO of Albion who are based at the Tea Building in Shoreditch.
So here we go…
As the LA Dodgers baseball team file for bankruptcy protection we start
with a soft pitch!
The strapline on the Albion website reads "Happily Faithfully Gallantly". You started the company in 2002 – are you happy 9 years later?
Absolutely. W

e have a fantastic team – 70 odd brilliant people doing some brilliant, challenging often completely innovative marketing. I started the business in my bedroom and we now have great work space in London and since February this in LA. What isn't there to be happy about?
The 'Evening Standard' (27th June) ran a story in the Business
Section titled 'Ogilvy builds on Mad Men legacy to fight digital
upstarts'.Tell us about Albion,your vision and whether as Miles Young
was quoted as saying "Digital pure-play is silo-thinking.It is doomed to
dissolve into the system."?
It's a strange thing arguing about the future agency model. The old ad dinosaurs like Ogilvy are stuck in the past and spend a lot of time over analyzing their future.  I'm too busy engaging with the world around me and prefer to just focus on doing the best creative thinking and the rest looks after itself. For the record though we aren't a digital pure play. In addition to creating www.slapometer.com, or www.skypenomad.com or www.giffgaff.com or iAd campaigns for Absolute Radio……we are responsible for some brilliant kids smoothie packaging for Innocent drinks, tv ads for Wonga.com, awesome posters for Air New Zealand. We are what us ad folk called media neutral…we do whatever answers the business challenge. But digital culture lies at the heart of Albion and that's what will sustain us.
Silicon Roundabout is rapidly becoming a major creative and vibrant
hub in London.The Financial Times ran an article 21st June titled
'Inflated Expectations'.It ended with the words "Whether it comes sooner
or later, the day of reckoning is impossible to avoid..". Do you look at
Facebook, Zynga, Groupon and the many other newcomers riding the 'Social
media wave' with worry that we are watching another 'bubble' or are you
excited?
No. I'm very excited. The media frenzy in the UK often focuses on disaster scenarios. It's a problem with the British psyche. Working out in the West Coast you just take for granted that the next generation of big businesses are in the making.
You are based in the Tea Building with businesses like Balloon
Dog, Mother, Tribe and AD-IQ. Creative 'inferno' or does the
future for Albion encompass a building with a more 'Albion-esque'
identity?
The Tea Building has been very good to us. We've grown from 15 people to 70 and always found a solution here. The community of like minded businesses is a great thing. We love the area so we can say for certain we'll not be leaving east London in the near future!
How does Jason Goodman switch off?
Windsurfing is a real love. As are my amazing family who all make me look very bad on the water…
Thank you Jason.
To find out more about Albion visit their website at www.albionlondon.com
Alternatively, to find out more about available property in the Silicon Roundabout area contact Kushner at www.kushnerproperty.com