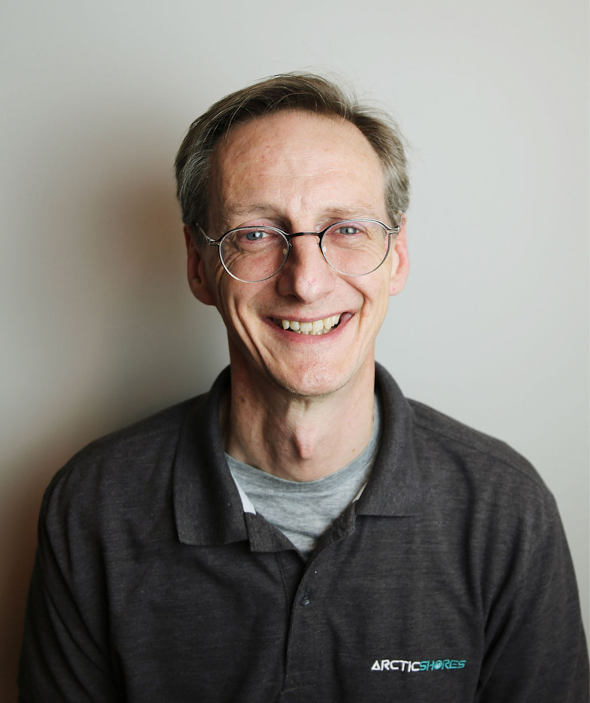 One day in late 2013, I was deep in conversation with a good friend about the difficulties his daughter was having in getting her first job. She was bright, curious, and full of potential. But she'd been rejected over and over again, without any feedback, after completing the same type of aptitude test each time. The tests were stressful, and she underperformed. What my friend couldn't understand was this: why were companies so fixated on a test that not only failed to capture her intelligence, but also failed to see the strengths that made up her potential?
As the rejections mounted, that potential was going to waste. All she wanted – and all we wanted for her – was a way to demonstrate her true capabilities. For employers to dig that bit deeper, and finally see her natural strengths the way we could.
It's a feeling I know all parents share – that simple wish for a fair shot for your children. It's why, along with my Co-Founder Dr. Safe Hammad, we decided to start Arctic Shores: to give every candidate the opportunity to show their potential, and every employer the means to see it.

Arctic Shores & the shift from skills
Through extensive scientific research, and the help of a Government grant, Arctic Shores created a behaviour-based assessment that's now used by hundreds of employers all over the world. We've ensured a fair, engaging and authentic assessment for over 2m candidates since we started. And we're still growing, fuelled by a $5m funding round led by Beringea in 2019.
That said, our mission at Arctic Shores is nowhere near complete. Many employers still aren't set up to see their candidates' true potential. For example, we've found that half of UK people leaders rely on technical skills tests when hiring, but only a quarter measure candidates' behaviours with a purpose-built assessment.
This seems incongruous, when you can teach for skills (often quickly), but you can't teach creativity, learning agility, resilience, or dozens of other desirable traits. It's that unique cocktail of personality and cognition that defines an individual's potential – not their experience, or even their skills. If we as employers want to hire the right people in the right way, we need to start measuring what matters. How we assess has to change.
And there's never been a better time to change it. This new economic and societal environment comes with new expectations:
Fairness comes first
The social justice movements sparked by George Floyd's murder last year have shifted the spotlight squarely onto fairness, diversity and inclusion. For employers, that means three things for their hiring process:
● Fighting unconscious bias at every turn
● Delivering a consistent hiring process
● Seeing enough in every candidate to truly measure potential
It's clear that traditional processes aren't set up to meet these benchmarks. We've found that 81% of employers plan to review their diversity hiring practices this year, a testament to how assessment's status quo, based on skills and experience alone, isn't doing enough to really ensure equal opportunity.
But here's the good news: there's clearly a genuine willingness to change. I'm seeing more people leaders than ever asking Arctic Shores how they can build processes that truly deliver on those three pillars. And that gives me great hope for a fairer world of work.
Hiring remotely
The second key trend is the demand for digitisation as a result of the pandemic. Today, hiring doesn't just need to be fair – it needs to work remotely. But that presents a challenge: how can you truly measure everything you need to, without ever meeting your candidates?
We've seen some employers looking to leap this hurdle by tweaking their existing processes. For example, about one third of employers continue to run realistic job previews, albeit online. But this approach doesn't seem to be doing the trick – just one in five non-tech people leaders told us they were "very satisfied" with their talent acquisition process today. Accessing top talent remains their biggest challenge, and hiring remotely only makes it harder.
This would seem to suggest that, in this transformed world of work, hiring processes need to transform accordingly. Adaptation, 'tweaking' and half-measures won't be enough if we're to hire in a way that works remotely, at scale and at pace. We're just one provider offering new ways to see more in people online – the time feels ripe to embrace them.
2021: facing the change
In the last year, work's tectonic plates have shifted beneath our feet. The demand for fairness, equality and opportunity is just that: a demand. And we're no longer looking at home offices and thinking "will it work?" – this is work.
In this new world, I truly believe that solutions like the Arctic Shores assessment present employers with a brave, bold way to screen and hire successfully. By capturing behaviour and seeing potential, let's make 2021 the year we go beyond the ordinary measures, to build extraordinary teams.