Elvie, a health and lifestyle brand developing smarter technology for women, launched in 2013. It's CEO Tania Boler has worked in the UN and for charities across Africa and Asia. We caught up with her following the launch of Elvie's latest product.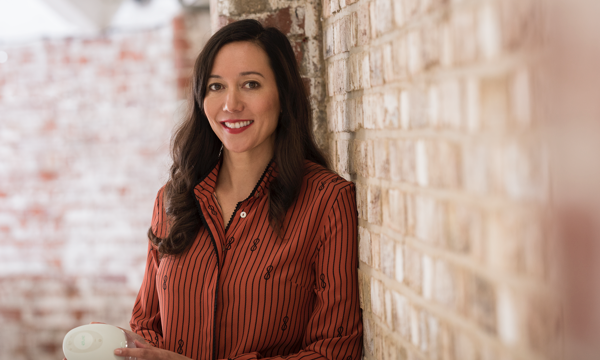 How is Elvie contributing to Femtech for women?
Elvie is leading better innovation for women. Femtech has been such a hugely overlooked area. We have a multitude of fitness trackers built and ready to use in our phones but nothing specifically for women. Women's bodies are so complex and go through so many changes it's astounding innovation seems to have been left behind in this field. We're creating products that are allowing women to get to know their bodies more and most importantly, learn how to care for them.

What made you decide upon the Elvie Pump and Elvie Trainer as the first key products to pursue?
When I became pregnant myself, I realised there were so many women's health issues that nobody seemed to talk about. I was shocked to find that one in three women experience pelvic floor problems, such as bladder control issues and prolapse. There had been barely any innovation in pelvic floor technology and there was nothing on the market that appealed to women. That's what inspired me to create Elvie Trainer, our award-winning Kegel trainer, to make strengthening the pelvic floor fun and easy. After Elvie Trainer, I looked at other areas of women's health that had also seen little innovation and it was clear to me the breast pump category hadn't seen much of an advance in the past 20 years. Pumping was an experience that many women found distressing and, in many cases, even shortened the length of time the mum would continue to breast pump. With Elvie Pump, we aimed to tackle all of the things that mums felt their current breast pumped lacked. This led us to create the world's first silent wearable breast pump giving new mums the mobility and freedom to express whenever and wherever they wish.
How significant was the strategic partnership with the UK's National Health Service?
The partnership with the NHS and Elvie Trainer was a huge breakthrough. There's a genuine need for Elvie Trainer and to be taken on by the NHS is a big step forwards in improving the options available to women when it comes to pelvic floor issues. We need to be talking about issues like incontinence and prolapse more to ensure women receive the best care possible. Elvie Trainer is now available through the NHS at no cost to the patient and will help reduce NHS spending on incontinence.
What challenges have you faced as a hardware start-up and what lessons have you learnt from Co-Founder Alex Asseily (Co-Founder of Jawbone)?
With a start-up, there is always going to be a push to raise more funds and budgets are often tight. We have to be very strategic with where we invest our time and money. There is no room for comfort zones, so we always try to learn, adapt and ensure that we deliver results. We've thankfully never had a problem raising money, but with our products being in intimate health sometimes the conversations in a room full of male investors felt a little uncomfortable. Prior to Elvie, I had never had experience with product designers and engineers. Alex was invaluable for this and taught me to hire the best team. His knowledge opened so many doors for us.
What opportunities have you identified in terms of the global femtech market?
It's a very exciting time to work on women's health tech as it's finally having its moment in the limelight. Women deserve better technology, so it is an inspiring space. Our outlook at Elvie is to help women feel better and healthier through better technology. The opportunities in global femtech are endless. With the data that can be collected from current female focused products there is so much more that can be adapted and developed to help women understand their bodies more.