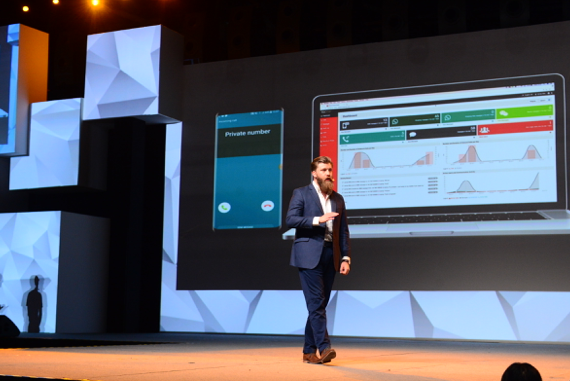 VoxSmart is a privately held UK limited company who pioneered a unique method of recording BlackBerry devices in 2011 for UK Banks under strong regulatory and political pressure following the 2008 financial crisis. Whilst the company enjoyed some early success its failure to invest in technology and meet the evolving requirements of the market caused it to stumble and nearly fall.

In 2014 the company began a turnaround journey which today sees it as the global leader in Mobile Surveillance with a solid reputation for innovation and an enviable customer list of Tier 1 Financial Institutions. With strong backing, experienced leadership and an incredible team the company is poised for a spectacular 3yr growth trajectory and exit path.
As CEO of VoxSmart I am often asked if I am also the Founder to which I always give the same answer, 'No. I'm the Rescuer!'.
As I've come to learn the role of a rescuer is very different to that of a founder and is something akin to starting a 100m race wearing a WWII diving suit. Encumbered from the start and competing against athletes (competitors) in shorts and t-shirts!
I often compare what we have achieved over the last 3 years with what it must have been like to remove that diving suit piece by piece whilst the race was already underway. Each piece representing years of friction and inertia which unremoved would disable our ability to grow our business and compete in (and hopefully win!) the race.
Firstly, we needed to legitimise the business (taking the helmet off and showing our face) by engaging directly and honestly with a market who needed to understand our journey both in terms of historical context and the mistakes we made and our forward momentum and vision for the future. For this we raised a tranche of angel funding and hired some extraordinary marketing talent.
Secondly, we needed to productise the offering (take the body suit off and free our arms) to ensure our product was a suitable fit for a market whose needs were both complex and often bespoke. For this we raised our Series A on the back of strong market traction (POC's and Beta customers) and triple digit ARR growth.
Thirdly, we needed to globalise the business (take off the diving boots) to ensure we had global coverage, local language support, a deep understanding of market conditions, habits and trends and the right teams and resources to serve a global market. We opened offices in Singapore and New York and hired talent whilst taking on additional capital from our hugely supportive existing shareholder base, now some 30+ strong!
And finally, we needed to industrialise everything to give us that magic SaaS scale and ensure our margins and metrics and unit economics were market beating. For this we need a different level of capital support and we are currently looking for a global institutional investor to support the next phase in our journey. One who believes that sometime turnarounds do turn and when they do the results can be dramatic…