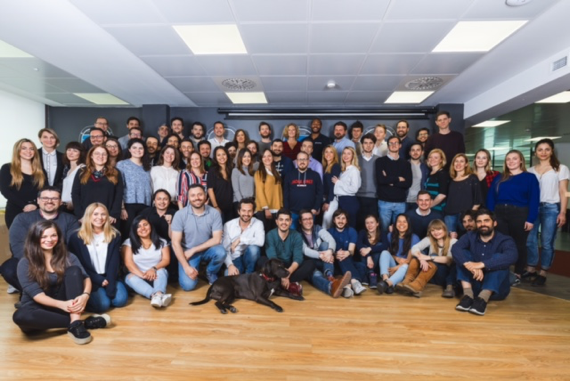 Whether I like it or not, I'm sometimes referred to as a serial entrepreneur. And as TravelPerk  gains more and more traction, I get asked more frequently about my perspective on entrepreneurship.
It was only three years ago that this chapter as CEO started. I distinctly remember the day my cofounder, Javier Suarez, and I put pen to post-it and filled his kitchen with ideas.
Since then, the team has grown to nearly 100 and our product has evolved dramatically. But the drive is the same. We're here to deliver a consumer-grade experience that just works for business travelers – and ultimately their (administrative and financial) counterparts back at HQ.

Getting to announce our recent $21M Round B funding was a huge milestone for TravelPerk, but also for me personally. When I think back about the action-packed years since the inception of the company, some (hopefully) interesting highlights come to mind.
Fix a big problem
A year after the acquisition of my previous startup, Hotel Ninjas, by Booking.com, I was ready to innovate within the travel industry again.
Together with my co-founders Ron and Javier, we agreed that the consumer side of travel was well-served. So instead, we teamed up to solve what we saw as a massive gap in business travel. We wanted to bring an order-of-magnitude improvement to how companies travel. We wanted to move the needle.
See, business travel products are rarely liked and enjoyed by their users. For too many years, travel agencies provided inefficient and expensive service. The technology they offered was non-existent – or worse, badly built. This often left the traveler confused: "Why do I have to use a travel agent instead of quickly and efficiently booking a better option online?"
We looked at this massive trillion dollar market, and realized that this was an opportunity to build a great consumer brand. A brand that puts the traveler at the center.
When you choose what to work on for the next 10-20 years of your life, my suggestion is that you choose a big problem to fix, and make sure that you're emotionally attached to solving it.
Don't be a mercenary founder, it rarely works out.
Listen to the market, and be a little bit crazy
Working your butt off and executing your vision faster than anyone else is only part of reaching success. Timing is crucial as well. The business travel industry was due for a really big shift.
Initially, our vision was much more limited, focused on a small feature, not a full platform. But we kept getting the same feedback: employee incentivization (our original plan) was only a piece of the puzzle. Businesses were struggling to manage travel from start-to-finish. The current options on the market weren't serving them. In other words, business travel sucked.
So we listened, and expanded our scope and dove headfirst into addressing the bigger picture. Companies needed an one-stop shop for booking, managing and reporting their business travel. It was a much bigger challenge than what we originally had envisioned, but we said (maybe naively), "Why can't we be the ones who fix business travel?"
It was a crazy decision to go after the entire problem, but we've never regretted it.
Be lucky, and have great partners
We were extremely fortunate to be able to raise our seed round from one of the world's best early stage fund: LocalGlobe. Robin, Saul, and George were extremely helpful, accessible and motivated to help us grow. And boy did we…
I'll be the first to admit – it wasn't easy – but with customer feedback helping drive product vision and continued validation from new clients, we hit the holy grail of early stage startups: product/market fit.
I once read on Quora the best three word answer ever. Someone asked "How do you know that you hit product/market fit?" and the highest voted answer simply said "You just do". I'll add that if you need to ask it (like I did), you probably haven't hit it yet.
We're now a leader in this space with over 1,000 companies using TravelPerk, leading the market in user satisfaction, offering the world's largest flight and hotel selection, and truly raising the bar in terms of what customers expect from their corporate travel agencies.
Ultimately, the results spoke for themselves, but despite our hyper growth, we were still humbled by the level of interest from top investors.
In addition to our Series A investors Spark Capital and Sunstone – known for their portfolio of industry-changing investments like Slack and Twitter – our Round B has added Target Global, Felix Capital and Amplo to the team. We don't take these on lightly.
We share sincere and mutual goals with each of our investors. For example Felix Capital has been very vocal about their interest in supporting consumerization of the enterprise. We agree it's time the tools we use for work were as good as the ones we use at home.
It's important to find the right investors that match your mission, your values and your culture. And it doesn't hurt to get lucky like we did. Each bring a new and different angle, more connections, and needless to say, the ability to write bigger checks!
We're just at the beginning of our journey
Jeff Bezos famously repeats, even today, that it's still day 1 for Amazon. We have the same approach. As we keep growing we discover more and more opportunities to fix bigger problems in business travel. I think that the right mentality is to always treat today as day 1, and never relax the intensity of how you approach your startup. The day you do – you'll become obsolete.