I co-founded Marley Spoon in 2014 with the mission to radically reduce food waste and fundamentally change how grocery shoppers purchase food by providing access to convenient, market-fresh and delightful meals to millions of households around the world. The food industry is the last industry to move online, and as the inevitable next step, I saw this as a huge opportunity to move into that space and cultivate a company that creates solutions to the intrinsic problems faced daily by customers when purchasing and cooking food.
Since our launch Marley Spoon has developed and grown immensely. We now deliver to seven countries worldwide – the UK, The Netherlands, Germany, Austria, Belgium, Australia and the US – amounting to a coverage potential of 250 million households globally. In this time we have also raised over €29m in equity funding with up to €40m in additional media volume secured, have adapted our offering to include both two-person and family boxes following customer insights and demand, launched an app for both Apple and Android, and partnered with renowned 'lifestyle guru', Martha Stewart, in the US to create Martha & Marley Spoon.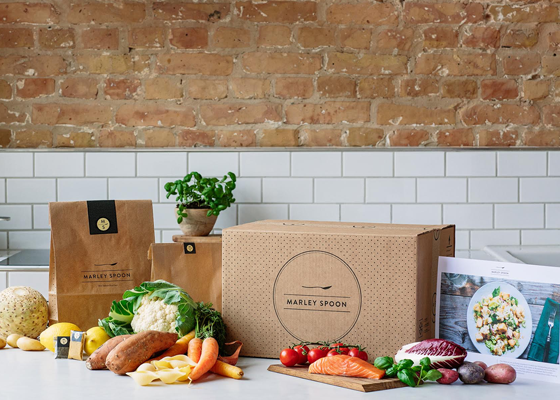 In our two years of business, our mission has continued and has led us to believe that the broken supermarkets are our primary competition – they are the businesses creating stumbling blocks for customers and making the food purchasing space an undesirable and inconvenient one. Given the billion-plus pound food industry in the UK, competitor recipe kits such as Hello Fresh command a tiny fraction of the market. Marley Spoon is less concerned with competition from businesses with similar models and more with growing the category as a whole and educating the market about the advantages of the meal box model compared to the antiquated supermarkets.
Marley Spoon is doing three things fundamentally differently to the supermarkets. Firstly, we have a smaller supply chain – supporting trusted farmers and suppliers who grow and create the highest-quality products. Secondly, we have zero waste – when we buy our food we already know what we've sold and we only send the customer exactly what they need for each recipe. Lastly, we don't need prime retail real estate – we have one central facility that serves all of our customers nationwide.
Consumers in the future will not think about ingredients but recipes. Marley Spoon will give them a worry free guarantee when it comes to eating dinner at home, offering time­saving benefits, variety and new ideas, easy step­by­step recipe cards and perfectly portioned ingredients, saving customers money and waste. At the same time Marley Spoon is helping to reduce the massive food waste supermarkets are causing, by cutting the CO2 emissions and fresh water wastage associated with it.
I believe that this is the inevitable and ethical next step in the future of food.