I'd had an idea nagging away at me for years and I decided I was going to make it happen when I became a mother three years ago. It was as much about putting something right for consumers as it was about the future I gave my daughter and having the flexibility to be there for her.
The idea was simple. Give people a way to rate the service they had received on a scale of 0-9 using the payment terminal when they paid for a meal or their shopping. The inspiration came from my time as a consumer lawyer at Which? advising the EU on consumer policy, where reviews were very much their bread and butter. One thing I hated was that you had no confidence that a rating on TripAdvisor or Yelp was from a valid customer. I saw a real gap in the market for a more representative solution.
I wanted to find out if there was a market for the idea among retailers and restaurants. I knew consumers wanted it. So I decided to walk the high street with my baby asleep in the pram and find out if shopkeepers and restaurant owners would use TruRating.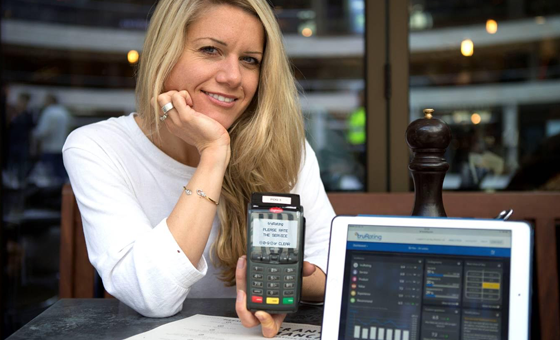 They overwhelmingly wanted it, and I started to plan how I could make it happen. My husband joined me, together with a school friend, our best man, my brother's friend and a payments wizard. We often decamped to work in a local McDonalds where the wifi was much better, all working for no salary and with three of us taking it in turn to look after my daughter until we received our first set of seed funding in February 2014. And that's really where it began.
We were lucky enough to be introduced to a few angel investors early on – I remember writing to one on LinkedIn who said thanks but he was relaxing in his villa on the golf course. I then asked him to spend 1 minute 47 seconds watching our demo video, and bingo – he was in!  He brought many of our early team members with him from his earlier start ups, and that's when things really got moving.
Three years on, we've secured partnerships with the world's biggest payments providers like Ingenico and Verifone, won numerous innovation awards, grown to a team of 53 across four markets and our last round of funding ('Series A') brought in £9.5m earlier this year.
This is a massive deal for us in so many ways, but mostly because we've been able to scale – we're live in the UK and Australia and later this year we'll go live in North America starting with Canada.
It's also helped us attract major household brands and take them into pilot so that later this year we'll have thousands of retailers asking their customers what they think every minute of every day. 88% of customers asked to rate are happy to do so, so the impact that this will have on their businesses is massive.
The real secret to success is the team. We've attracted people who have huge talent, depth of experience and are dedicated to making the dream a reality.
And that's really important, as we say it's not like a job joining truRating, it's more like a way of life. For a chapter of our lives we have to give everything we have, which is why I reward everyone with a share of the company.
We have the most amazing opportunity to absolutely smash it – globally – no one does what we do, and we have pretty much unanimous merchant demand, in every market, with every bank wanting to offer it to their merchants.
It's been a rollercoaster to get here, and I'm sure the ride will be even more exhilarating in the next three years, all because I really believe we have the potential to bring truth back to the way we rate and compare businesses and change the market for good.