As a British chap myself, I've actually spent the better part of a decade building an incredible business in New York City. I felt the itch to expand internationally many times but knew that with "going global" came many unique challenges.
On top of the operational issues firmly sits the need to reach a certain scale and as an enterprise software player that's meant helping to cultivate the SaaS ecosystem around Sailthru, carefully building and supporting each of our clients as they grow their businesses, and being a vocal advocate for the value and direction of personalized marketing communications.
Just a few weeks ago we opened our London office to support our fast-expanding EMEA operations and I'm thrilled to have an excuse to come home even more often now!
Before we put feet on the street though, several elements of our vision and business came into focus, which I thought I could share for other leaders considering growing across the pond.
A clear belief that the need was global for our personalized marketing technology
With more people online than ever and many of those on one or more social networks, customers around the globe are adjusting to the two-way dialogue they now have with brands. With that shift in behavior comes the expectation that brands will truly know them, the individual. The need for 1:1, strategic, omnichannel personalization is cascading globally. We know. We see it and we're there to meet it.
Funding doesn't hurt
In February of 2013, we raised $19M in Series B funding. Benchmark was our lead investor and having the definitive support of our business' unique value proposition – personalization driving conversion – from Bill Gurley along with the capital required to effectively staff up and streamline global operations made the decision to expand internationally that much easier.
A team eager to confront the unique challenges posed by each new geography
With the various nuances of each global culture, business climate, economy, etc. it's essential to have team members willing and able to steep themselves into each of those differences. Without the right team in place, an effort to expand internationally can easily be stymied. Each person needs to be self-motivated, creative, hard-working and a bit of a visionary as they are the front lines as your business grows across the globe.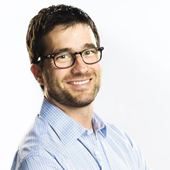 Thank you to Neil. To find out more about Sailthru, visit their website at
sailthru.com.
Alternatively, to find out more about available office property in the Silicon Roundabout area contact Kushner here.