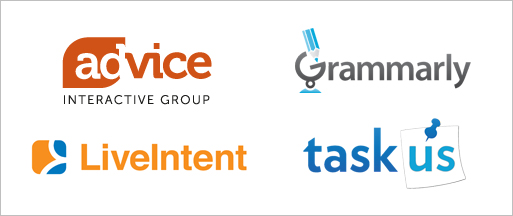 Bernadette Coleman
CEO of Advice Interactive Group
www.adviceinteractivegroup.com

Great ideas are born everyday, however, not every great idea is going to make you money. The secret to identifying a great "money-making" idea, in my opinion, is having the ability to analyze current & previous management experience to ensure the idea will utilize the lessons learned from that experience. I have found that the best and most profitable business opportunities tend to be those with a passionate owner and team. Good entrepreneurs tend to be visionaries. So, as an entrepreneur, you should devise your vision (idea) and surround yourself with the right team to bring the vision to fruition…a team of experienced entrepreneurs who can see a trend or a potential market for a product and turn a vision into a reality.


Brad Hoover
CEO at Grammarly.com
www.Grammarly.com
Useful business ideas solve real problems for customers. Ideas that solve big problems with simple solutions are both valuable and viable. In the case of new ideas, entrepreneurs should develop a minimum viable product or service to address the problem, and then continually improve based on customer feedback.
This is how Grammarly became the world's leading grammar checker. Grammarly's Editor fixes contextual spelling mistakes, finds more than 250 types of grammar and punctuation errors, enhances vocabulary usage, and suggests citations. It is accessible at Grammarly.com, or as a Microsoft Office plug-in. As a consumer Saas business, we make money primarily from individual subscriptions (monthly, $29.95; quarterly, $59.95; and annual, $139.95), although we also sell enterprise licenses to education institutions, enterprises, and government entities.
Matt Keiser
CEO of LiveIntent
www.LiveIntent.com
If an idea is good it doesn't necessarily need to make money – immediately. But any good idea for a technology or a service has to meet a need – new or existing – and provide value for some target customer. The best ideas take investment prior to return.
Many of the best ideas are initially incomprehensible to most people. The idea of the personal computer, for one. The idea of email was a great idea that needed the development of an entire ecosystem before it made sense to most people. The idea of handheld turn by turn directions was out of the realm of imagination 10 years ago, yet now we take it for granted.
One thing is for sure. The best ideas need execution to come to life. If you are going to come up with something interesting and revolutionary you had better expect skepticism and a long hard road ahead of you."
Bryce Maddock
CEO at TaskUs
www.TaskUs.com
"At TaskUs, we have the good fortune of supporting some of the fastest-growing and most innovative companies in the world. I can tell you that being profitable has very little to do with how good your idea is. Rather, the most profitable companies are the ones that out-execute the competition. It comes down to operations." – Bryce Maddock, CEO at TaskUs
Thank you to Bernadette, Brad, Matt, and Bryce.
To find out more about available office property in the Silicon Roundabout area contact Kushner here.